Hayseed Fundraiser: "In the Gloom" Day of Reckoning
Apr 05, 2022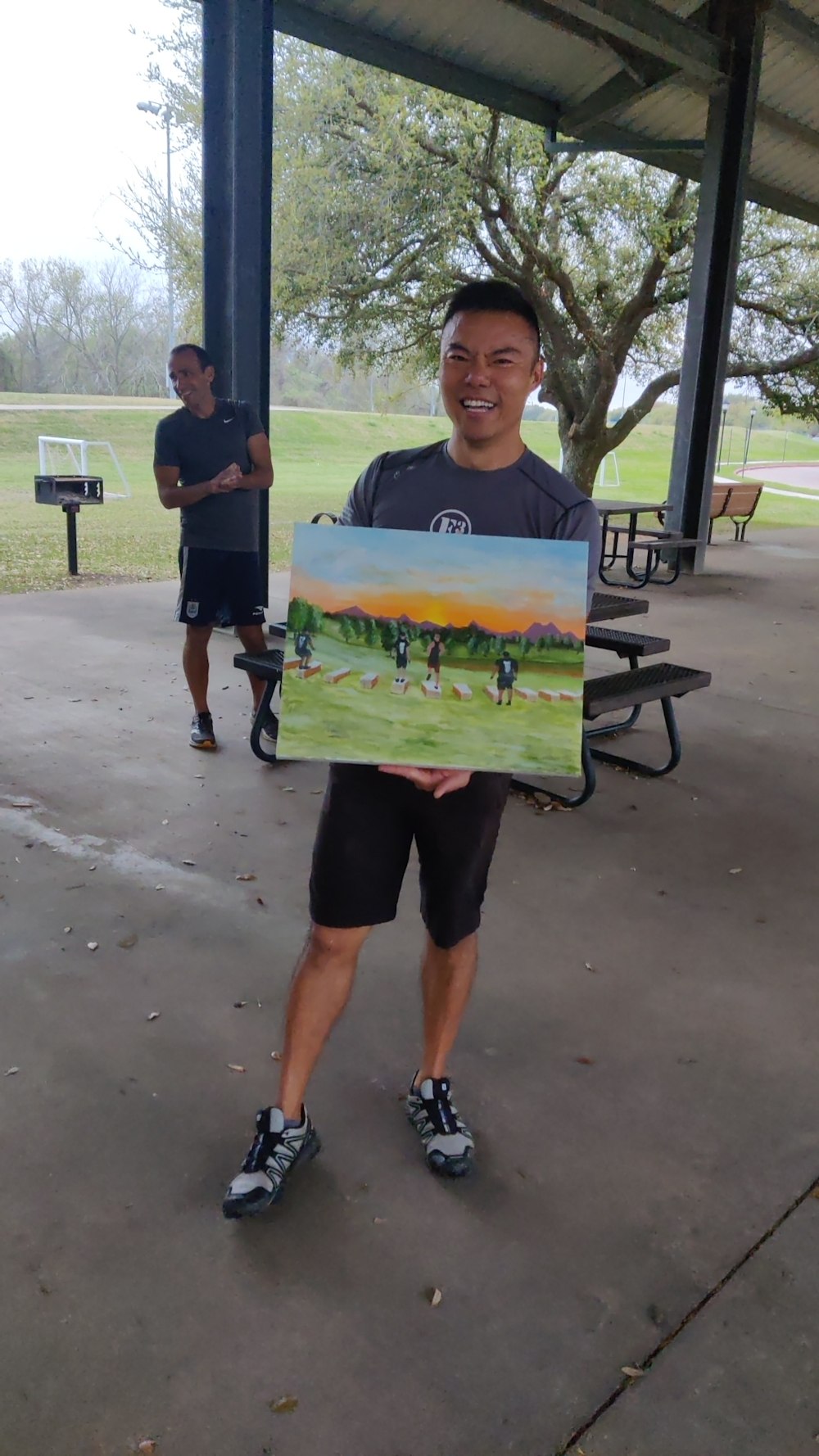 Roughly three months ago, one of our own broke the news of his lymphoma diagnosis to the Sugar Land F3 community. [F3 is a fellowship for men that emphasis three primary pillars--fitness, fellowship and faith, in something greater than yourself].
The reality of his announcement--coming from someone who was very fit at just 42 years old hit many of us awkwardly; this could happen to anyone.
What can we do to help? Maybe we can lessen the economic burden a bit.
I had painted several scenes from an F3 event the prior summer with the hope of developing a market for my artwork. After Hayseed's announcement a fundraiser seemed to be in order. Contribute a nominal amount and each donation buys a chance at winning the 16x20 oil-on-canvas painting titled "In the Gloom".
Six weeks later, the winner was announced and I presented the painting to "Hostage" following our Saturday group exercise last weekend and later that afternoon, I presented "Hayseed" with the booty from the fundraiser: $3,410 (I mistakenly spoke off the cuff in the video).
Thanks to each of you.
Chisel-Darren Etlinger
Darren P. Etlinger d.p.Etlinger Fine Art Houston Honey Do F3 Fort Bend F3 Dallas F3 Austin F3Houston F3 Katy F3 Nation KortneyandKirk Oliver Bert Sintuphant Matt Bryarly Paul Lappage Eric Shelley Dante Peduzzi Timothy Stone Asif F. Sayani David Guzman Shawn Paul Sidoti Kris N Rich Chavez Sammy Brooks Deston Day Eduardo Garcia JoeorJackie Howard Randy Weaver Facundo Gomila Vishal Michael Shah Sunny Kothare Tam Vo Hitesh Patel Ben Carruthers Olugbenga Ajala Asit Pandya Chris Martinez JMark Cavitt Steven Ambriz Geoffrey Mburu Darshan Patel Alvaro Jose Escorcia Ray Lopez Irfan Jindani Brian Butscher #darrenpetlinger #dpetlingerfineart #dpetlingerart #houstonhoneydo #houstoninteriordesign #interiordesign #artdrawing #artforcharity #artforcommunity #charity #lymphoma #fightlymphoma #fightcancer #hayseedstrong #hayseedhasanarmy #hayseed #chisel #thebestmeicanbe #bestmeicanbe #artist #painting #f3nation #f3houston #f3katy #f3dallas #f3austin #f3texas